講座2019.03.06(三)Dr. Cahill Smith《鋼琴大師班 》
Dr. Cahill Smith《鋼琴大師班 》
日期:2019/03/06(三)10:10
地點:活動中心二樓演奏廳
講者:Dr. Cahill Smith (鋼琴家, Lee University 鋼琴教授)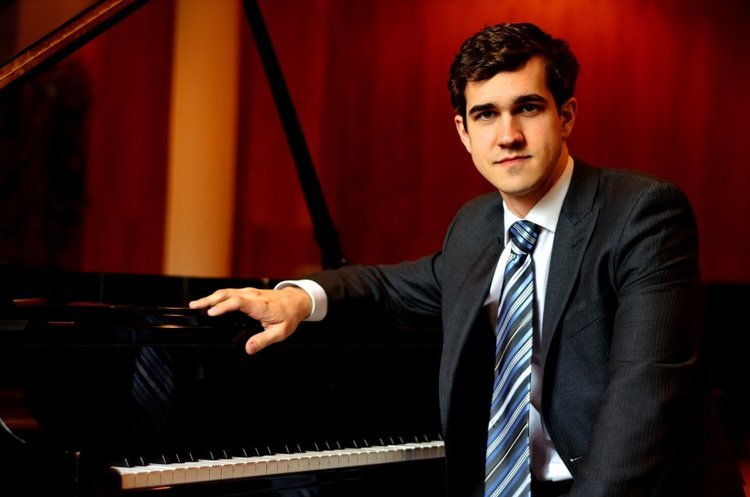 簡介:
Born and raised in rural Alabama, pianist Cahill Smith has performed in major venues in the United States and abroad, including four performances at Carnegie Hall's Weill Recital Hall, the PolyTheater in Chongqing, China, the Isabella Stewart Gardner Museum's Calderwood Hall in Boston, Cleveland Museum of Art, the Royal Dublin Society's Concert Hall, the Aspen Music Festival's Harris Hall, Minneapolis' Orchestra Hall, Buffalo's Kleinhan's Music Hall, and Birmingham's Alys Stephens Center. Cahill has been featured as a concerto soloist with the National Ukranian Symphony Orchestra in Kiev, the Mongolian Symphony Orchestra in Hohhot, China, the Eastman Philharmonia, the Alabama Symphony Orchestra, the Chattanooga Symphony, the Butler Symphony Orchestra, the Mississippi Symphony Orchestra, the Montgomery Symphony Orchestra, and others. His live and studio recordings have been broadcast on WQXR, New York's Classical Music Radio Station and WSMC, Chattanooga Public Radio.
Cahill gave his first recital at Carnegie Hall's Weill Recital Hall in 2013 with a program dedicated entirely to works of Nikolai Medtner. Two years later, in a review of his 2015 solo recital in the same venue, New York Concert Review wrote, "The entire second half was devoted to a special "cause" of Mr. Smith: the piano music of Nikolai Medtner […]. Here, Mr. Smith was in his element, revealing every twist and turn, every poignant repeat of the cyclic themes, with beautiful shimmering colors I haven't heard since Gilels played the Sonata reminiscenza in Carnegie Hall in 1980. Of another performance in 2011, the East Hampton Star wrote, "The unexpected gems of the afternoon were two of Nikolai Medtner's Vergessene Weisen ('Forgotten Melodies'), played by Cahill Smith. I was not familiar with these works, but in Mr. Smith's hands they were absolutely endearing." Cahill has given recitals and lectures on Medtner's music at Yale University, the International Medtner Festival in London, UK, and a number of other universities in the United States.
Cahill completed his Doctorate of Musical Arts at the Eastman School of Music in 2014, where he served as the teaching assistant to Natalya Antonova. At Eastman, Cahill was the inaugural recipient of the Douglas Lowry award for excellence in degree recital performance, won the Eastman Concerto Competition, and was awarded the Prize for Excellence in Teaching as a graduate assistant. Cahill completed his Master's degree at the University of Michigan with Arthur Greene, and his Bachelor's at the University of Alabama at Birmingham with Yakov Kasman. Other piano teachers include Ann Schein, the late Betty Sue Shepherd, Ronald Shinn, and Margaret Moore.
Cahill serves on the piano faculty at Lee University in Cleveland, Tennessee, where he also serves as Artistic Director for the Lee University International Piano Festival and Competition. He is an active lecturer, competition juror, and masterclass presenter. Cahill is a Yamaha Artist.